GoDaddy.com Bowl
Published on January 6, 2011 by dave · 1 Comment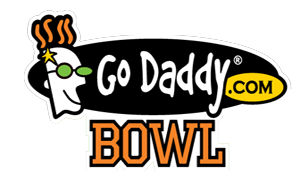 The GoDaddy.com Bowl was also known as Mobile Alabama Bowl and the GMAC Bowl and has been in existence since 1999. GoDaddy.com became the sponsor for the bowl game that takes place annually in Mobile, Alabama and this will be the first GoDaddy.com Bowl.
The conference affiliations are loosely based and this bowl game has included teams from the Mountain West Conference, Conference-USA (every year up until two years ago), the Mid-American Conference (which has sent a team every years since 2001) and the Sunbelt Conference.
This year's matchup is between the Middle Tennessee Blue Raiders (6-6) against the Miami of Ohio Redhawks (9-4). The game will begin at 8:00PM ET on ESPN and ESPN Radio.
Previous Bowl Results
The MAC and Sunbelt Conferences have only matched up once before in this bowl game with Central Michigan beating Troy 44-41. The MAC is 6-3 overall in this bowl matchup but they have lost 3 of the last 4 GMAC bowls.
The Sunbelt Conference is currently 2-0 against the MAC conference in bowl games this season, with Troy beating Ohio and FIU winning against Toledo.
Middle Tennessee won their first bowl game last season when the beat Southern Miss in the New Orleans Bowl by the score of 42-32. This is only their third bowl game.
Miami of Ohio has not participated in a bowl game since they had Ben Roethlisberger at QB back in 2004 when they lost the Independence Bowl against Iowa State 17-13. The Redhawks are 6-2 in bowl games overall.
GoDaddy.com Bowl Breakdown
Records – Middle Tennessee: 6-6; Miami (Ohio): 9-4
All Time Bowl Record – Middle Tennessee: 1-1; Miami (Ohio): 6-2
Key Wins – Middle Tennessee: FIU 28-27, Louisiana Monroe 38-10; Miami (Ohio): Temple 23-3, Northern Illinois 26-21
Key Losses – Middle Tennessee: Memphis 24-17, Minnesota 24-17, Troy 42-13; Miami (Ohio): Florida 34-12, Missouri 51-13, Cincinnati 45-3
Middle Tennessee has a couple of things going against them. The first is that they lost some very winnable games against teams in better conferences. The loss to Memphis was the Tigers only win this year. They did win their last three games, however, to finish bowl eligible.
Miami doesn't have a whole lot on their plates as far as impressive wins. The fact that the first game of the season against Florida was so close was because the Gators offense was so bad. They also got beaten badly against a sub par Cincinnati team. The Redhawks finished the season on a 5 game winning streak with the final two victories being their only wins against teams with winning records.
Points For/Game – Middle Tennessee: 26.9; Miami (Ohio): 20.5
Points Against/Game – Middle Tennessee: 27.5; Miami (Ohio): 23.4
Offensive Yards/Game – Middle Tennessee: 372; Miami (Ohio): 347
Miami of Ohio has struggled this year on offense, particularly on rushing the ball where they are 114th of 120 colleges overall. Meanwhile, the Blue Raiders have a very good rushing attack and this could be the key to the game.
Prediction
I haven't been on top of things recently in the bowl season after my dismal performance picking the winners since the games of December 29. That has led to me not being so confident with which team I pick. I'm hovering right around .500 overall.
I don't have many good reasons anymore, I'm just going to pick Middle Tennessee to score more points then Miami of Ohio because of their struggling offense and the Blue Raiders ability to rush the ball. Final score 27-13.
Highlights from Previous GMAC Bowls
Tags: bowl games, college football, Mid-American Conference, Sunbelt Conference