Princeton Vs Kentucky
Published on March 17, 2011 by dave · No Comments
I'm running out of time on this game as well. I'm going to have to make this one brief.
The Kentucky Wildcats (25-8) will play the Princeton Tigers (25-6) out of the Ivy League. The Ivy League is the only conference that currently does not play a conference tournament. Instead, they play in a Championship game between the top two schools. This year, Princeton shocked Harvard on a last-second jump shot to win the NCAA bid.
The Tigers plays their patented offense and always tries to slot the game down. They have not played many tournament quality opponents this year. Princeton has not played in a tournament game since 2004 and are 0-2 in the past 10 years.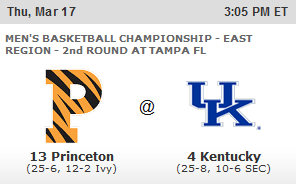 Kentucky got the short end of the stick when they got a 4 seed in this tournament. The SEC tournament champions beat Florida handily in the Finals but the Gators got a 2 seed and an easy path to the Elite 8. Kentucky is 8-1 in their past 9 first round matchups.
I don't foresee this game being a problem for the Wildcats. They are currently installed as a 13 1/2 point favorite. Kentucky is on a roll and I believe that they will win this one going away.
I predict that the final score will be Kentucky 74, Princeton 54.
Tags: Ivy League, NCAA, NCAA Tournament, South Eastern Conference