Kraft Fight Hunger Bowl
Published on December 31, 2011 by dave · No Comments
The Kraft Fight Hunger Bowl is a college football bowl game that will be played on Saturday, December 31 in AT&T Park in San Francisco. The bowl game has been around since 2002 and was previously known as the Diamond Walnut San Francisco Bowl and the Emerald Bowl.
This year's matchup is between two maligned teams as the Illinois Fighting Illini (6-6) go up against the UCLA Bruins (6-7). Kickoff will be at 3:30PM ET on Sunday night. It can be seen on ESPN or heard on ESPN Radio.
The Emerald bowl was always played in December, where all of these non-BCS post New Years day bowl games belong. The Kraft Fight Hunger Bowl was played very late in the bowl season last year. They have now moved it back up and are playing the game on New Years Eve.
Originally, the Mountain West conference played against the Big East in this bowl game. The ACC has participated in this game from AT&T Park in San Francisco since 2005 and the Pac-12 has tie-ins since 2006. This year, there were 10 bowl eligible teams from the Big Ten and Illinois received a bid to the last bowl game available.
Both of these teams should be hungry for this game. They both fired their head coaches after historic collapses. For Illinois, they started off the season 6-0 for the first time in half a century. They promptly lost their last 6 games although the only unforgivable loss was the blowout to Minnesota on the last game of the season.
For UCLA, they lost to their crosstown rival USC 50-0 and limped their way into the Pac-12 Championship game. They had to petition the NCAA to make this bowl game because there is a rule that no team under .500 can make a bowl game.
There is no way of knowing which team is going to show up in this matchup. Even though this bowl game is in California, there aren't many UCLA fans in Northern California, so there won't be a home field advantage here.
I am picking UCLA to win this game strictly based on the fact that they showed up in the Conference Championship game against Oregon.
Prediction
Illinois hasn't scored more than 17 points in any of their losses. The offense has gone completely stagnant. I have UCLA winning this game 27-17.
---
2010 Fight Hunger Bowl
Previous Bowl Results
The ACC is 1-4 in the Kraft/Emerald bowl. Last year saw the USC Trojans play and win 24-13 against these very same Boston College Eagles. Boston College also won the San Francisco Bowl in 2003 as part of the Big East.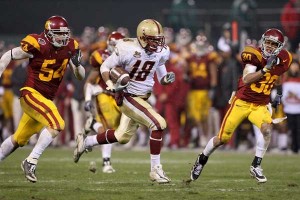 Boston College did lose in this bowl game last year when both squads entered the game 8-4. Meanwhile, Nevada has not been very good in bowl games recently; they've gone 3-7 in bowl games overall and lost 45-10 last year to SMU in the Hawaii Bowl.
Kraft Bowl Breakdown
Records – Boston College: 7-5; Nevada: 12-1
All Time Bowl Record – Boston College: 13-8; Nevada: 3-7
Key Wins – Boston College: Clemson 16-10, Syracuse 16-7; Nevada: Boise State 34-31, Fresno State 35-34, BYU 27-13
Key Losses – Boston College: Virginia Tech 19-0, Notre Dame 31-13, NC State 44-17; Nevada: Hawaii 27-21
Nevada is a big-time favorite in this bowl game (-7 points) because they are the only team in the past couple of season to defeat Boise State. They are the reason that we didn't have to see another TCU vs Boise State BCS Bowl and another awkward non-champion. Their non-conference schedule was relatively weak and so is their conference overall.
Boston College had a rough start to the season. After beating a couple of easy teams, the Eagles lost 5 straight games to bowl eligible teams. They finished on a 5 game winning streak; but only two of those teams were any good.
Points For/Game – Boston College: 18.9; Nevada: 42.6
Points Against/Game – Boston College: 19.5; Nevada: 22.1
Offensive Yards/Game – Boston College: 308.5; Nevada: 535.5
Boston College has struggled all year on offense. They only scored 20 or more points 5 times and four of those were against bad teams (Weber State, Kent State, Duke and Wake Forest). They didn't score more than 23 points in any conference game. Their defense has made up for this by holding teams to under 20 points per game.
That's not going to be the case against Nevada. They have one of the best offenses in the country. They rank 3rd overall in rushing and 5th overall in points scored. However, they did not play a whole lot of good defenses this year; but they did score 34 points against the 2nd ranked Boise State defense.
Prediction
This one shouldn't be that close. I envision this game being a two touchdown win for Nevada. You never know with a month and a half layoff how the teams will perform; but the Wolf Pack should be able to handle the Eagles this time around. I predict the score will be 31-17.
Highlights from Previous Emerald Bowls
Tags: Atlantic Coast Conference, Big Ten, bowl games, college football, Pac-12, Western Athletic Conference